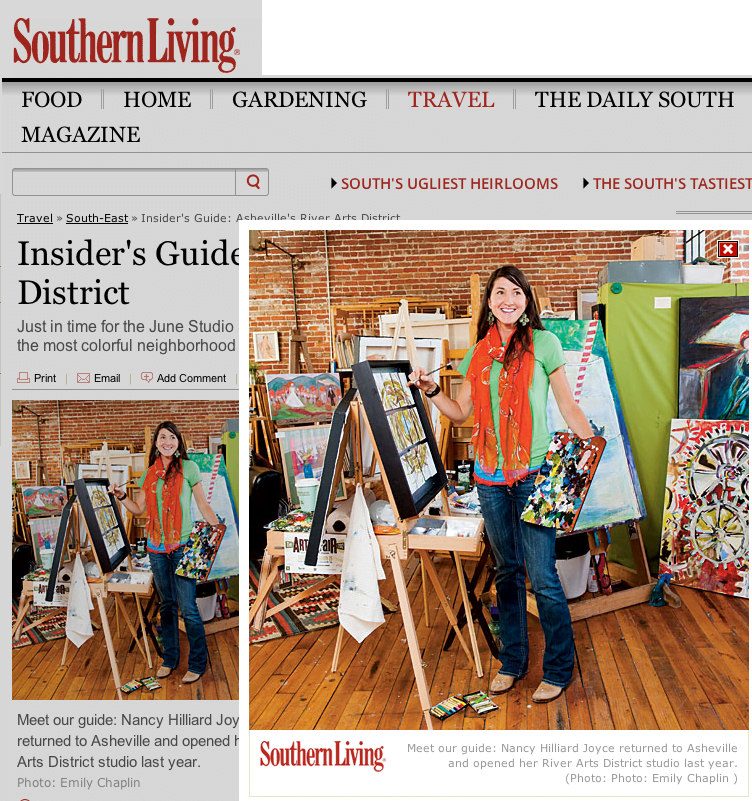 A few years ago while I was living in Asheville, NC, I had the incredible opportunity to work and talk with Southern Living Magazine about living and working in the River Arts District. Although, now a bit outdated, (I no longer live or work in Asheville & some addresses have changed), this article is still relevant and helpful on many levels to the first-time visitor; It acts as a guide to the new explorer as they venture into and out of The River Arts District of the Blue Ridge Mountains for the first time. Click Here
Although my art studio and family home have now moved to Concord, NC, I continue to hear from friends, collectors, and followers of my work who reach out to me for advice when visiting Asheville for the first time. For this reason, I have taken a moment to update my family-friendly, weekend getaway recommendations below:
ARTS

River Arts District
Begin at Riverview Station and rotate from there…


Start with Akira Satake Ceramics/ Gallery Mugen/ Cafe Yuzu (tell Akira & Cynthia that Nancy says "hello!") Located at 

191 Lyman Street


https://www.riverartsdistrict.com/ – Visit the working studios and galleries of hundreds of artists in the transformed historic industrial neighborhood. See artists at work making new creations, find original artwork and discover the jewel of the mountains in the River Arts District of Asheville, NC.
Grovewood Village

(next to Grove Park Inn)




111 Grovewood Rd




This historic site once housed the weaving and woodworking operations of Biltmore Industries, a noteworthy enterprise in the history of American Craft and textiles, founded by Edith Vanderbilt and two inspired teachers, Eleanor Vance, and Charlotte Yale.

Southern Highland Craft Guild
Folk Arts Center https://www.southernhighlandguild.org/
The Asheville Art Museum
The Asheville Art Museum is a community-based nonprofit visual art organization in Western North Carolina and is accredited by the American Alliance of Museums. The Museum is located on the center square of downtown Asheville, 2 South Pack Square at Pack Place.
EATS
Zambra (tapas)
85 W Walnut St, Asheville, NC 28801
Posana
1 Biltmore Ave, Asheville, NC 28801
Cúrate (tapas)
13 Biltmore Ave, Asheville, NC 28801
Limones

(

BEST Caliente Margaritas in the world)

+ Brunch/Dinner
13 Eagle St, Asheville, NC 28801
Salsa's (no reservations but very worth the wait)


6 Patton Ave, Asheville, NC 28801

Plant

(Amazing vegan food that even meat eaters will enjoy. Creative all-vegan cuisine, craft beers & biodynamic wines served in a spare, modern setting.)




165 Merrimon Ave, Asheville, NC

Sunny Point Cafe

(Brunch)




626 Haywood Rd
EATS + SITES
The OMNI Grove Park Inn (I have about 5 pieces of original art around this property! Take photos and send to me when you discover them.)
Blue Ridge Buffet

290 Macon Avenue (great for large groups, huge and expansive buffet-style meal.) 

The OMNI Grove Park Inn, Edisons Craft Ales + Kitchen


290 Macon Avenue 

(Personal favorite! Amazing cocktails and a perfect spot to watch sports while also feeling elegant. Added bonus ⭐️: there is a display of my paintings in and outside of EDISONS as well as other artists throughout this restaurant and property)
The Biltmore House (touristy for a reason – worth the visit!!!)


Deerpark Restaurant, 1 Approach Road
BREWS
Greenman Brewery


(

Family-owned by great friends of mine, a personal favorite) – 

27 Buxton Ave, Asheville, NC 28801
New Belgium Brewing Company
(Convenient to River Arts District) – 

21 Craven St, Asheville, NC 28806

Battery Park Book Exchange
1 Page Ave #101, Asheville, NC 28801
Top of the Monk


92 Patton Ave, Asheville, NC 28801
HIKES + VIEWS
The Great Craggy Mountains, commonly called the Craggies, are a mountain range in western North Carolina off of the Blue Ridge Parkway. I found this to be the most beautiful, family and dog-friendly hike close to Asheville. https://www.blueridgeparkway.org/parkway-maps/
Both an arboretum and botanical garden located within the Bent Creek Experimental Forest of the Pisgah National Forest at 100 Frederick Law Olmsted Way, southwest of Asheville, North Carolina near the Blue Ridge Parkway. It is open daily except for Christmas Day.