My birthday is on 1.31. I have always liked the number 13 because as long as I remember, 13 was taught to be feared and hated. Some hotels even omit the 13th floor from their elevator buttons! I find this to be both humorous and ridiculous. I enjoy liking things that other people fear. My birthday has the number 13 forwards and backwards in it. I often have very interesting things happen to me throughout the day and look at the clock and it tends to be either 1:31 or 11:31. I don't know…maybe it's random, maybe it's not. Maybe I'm random, maybe I'm not. Either way, I dig the number 13.
On Friday, 1.31 of next year, I will reveal thirteen paintings of female figures who intrigue me. They will all be 48 x 30 inches. I am hoping to create powerful, modern renditions of these thirteen women. I hope their images will inspire and intrigue you as well. Two of these thirteen are revealed below.
* * *
Annie Oakley. "When a man hits a target they call him a marksman. When I hit a target, they call it a trick. Never did like that much." – Annie Oakley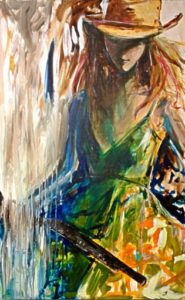 Sacagawea. (SOLD) Sacagawea, the daughter of a Shoshone chief, was born circa 1788 in Lemhi County, Idaho. At around age 12, she was captured by an enemy tribe and sold to a French-Canadian trapper who made her his wife. In November 1804, she was invited to join the Lewis and Clark expedition as a Shoshone interpreter. Lewis and Clark would not have survived the trip without her assistance in many ways.