I have always been fascinated with the different ways in which people inspect art. It's a curiosity of mine; a sociological fascination perhaps. Art is so subjective, as you know. One person sees brilliance in a piece while another person is indifferent and walks past the same work without as much as a sideways glance.
I have been working on a large-scale triptych piece for the last 5 months which will be permanently installed into a new mixed-use hub called, ONE, in Greenville, SC. You can check out the site at www.OneGreenville.com. Without revealing the final piece before it's installed, I thought I would write about its journey and beginnings.
The piece is divided into three 6 foot tall by 4 foot wide canvases, making the total a 6′ x 12′. Imagine three, large and (individually vertical) laid out  canvases creating one large horizontal work. My objective was to paint a group of people looking at a painting within a painting. Think of a very modern-day "Las Meninas" painted by Velázquez – only completely different.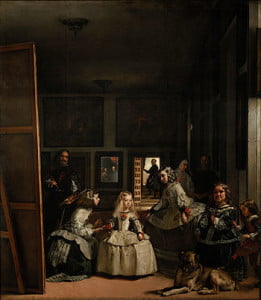 So different, in fact, I've taken an exterior [architectural] approach and recreated the actual building in which my paintings are to be hung and woven them with paint to vaguely read the word, "ONE". To complicate matters, I've also taken both vintage and modern landmarks of Greenville and placed them within this horizontal painting within the painting around and in between the structure and facade of the exterior architectural work.
Finally, if you are not completely confused by this point, I have added the foreground, which consists of the painting outside of the painting or rather, consists of the work outside of the frame within the painting. A group of 4 silhouetted people are closest to the canvas, perhaps discussing and talking about their thoughts of the piece. A man, who is furthest from the painting itself but closest to the 'actual' viewer (you) is looking at it as if to assess it's value. Finally, on the right frame, where I create a resting place for the eye with a Rothko-like color block of greens, a girl walks across from right to left; she doesn't glance at all toward the painting. She is carrying a satchel and is in her own world of thoughts. She doesn't even notice that others are looking at it so intently. Yet, you are watching all of them and their individual nuances of looking at art.
Which brings me to the sum of it all: The art of 'the art' itself becomes the act of looking at art…which, in effect, is what art is really all about in the first place. That, essentially, is how the painting all began. A painting within a painting.
Keep watching. Apparently, it's an art.